Presentation

In our wish to acquaint the public with the importance of natural and cultural heritage, we renovated the cultural monument of national importance in Matavun at No. 8.
From the 25th November 2011 our Promotion and Congress centre is opened for public.
It is here, where history meets the present and the future is built on the basis of values and knowledge, that world heritage is being enriched.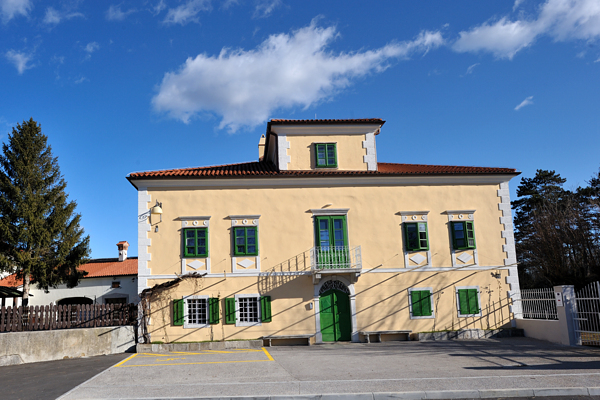 Promotion and Congress Centre Pr Nanetovh
The renovated cultural monument of architectural heritage is opening its doors to small congresses, conferences, seminars, trainings and other meetings, courses, thematic workshops, exhibitions and many other events not only on a local, but also on an international level. It is intended for all generations in various fields, with a special emphasis on fulfilling the Park's mission and carrying out the programmes the Park takes part in.
It also boasts a library with archives, which will comprise preserved materials and books found on the premises before the restoration, literature concerning Park Škocjanske jame and classical Karst, and other literature regarding the conservation of natural and cultural heritage worldwide.
The Promotion and Congress Centre offers an opportunity to set up a system of training in the field of the organisation of international conventions in the wider region of SE Europe and will function as an educational and promotional centre of the Karst Biosphere reserve. It is  the centre for starting and carrying out numerous duties within UNESCO's intergovernmental programme MAB – Man and the Biosphere, which strives for the use of the world network of biosphere reserves as laboratories for sustainable development, and also serves to connect wetlands of international importance of the Ramsar Convention.
Special occasions like official and other receptions, weddings and celebrations of anniversaries are unforgettable moments, which you is able to experience in our house.
We also offer you facilities for rent, because we want our guests to have the opportunity to experience the unique environment of the park with the Promotion and Congress Centre.
Škocjan Caves Regional Park is glad to invite you to the renovated cultural monument.
© Park Škocjanske jame, Slovenija. Vse pravice pridržane.